Station Feasts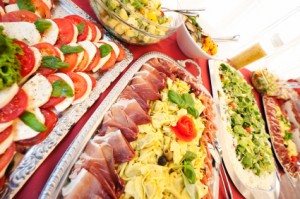 Over the last few years, Smithsonian Caterers have done a variety of feast style menus for its catering clients. The basic concept behind a station feast is that a custom selection of foods, tailored to your liking is then set up, prepared "al Fresco" and displayed to your guest in mini buffets placed throughout the venue. Your guests are treated to a free roaming dining experience that will truly be a reflection of your personality.
Below are just a partial listing of stations we have done:
Pasta Station– fresh ingredients, tossed to order with a choice of sauces.
Carving Station– choices include prime rib, roast tenderloin, roast turkey, roast pork loin, baked ham, and roast lamb rack, roast leg of lamb
Grill Station– Ribeye steaks, filet mignon, New York strip steak, marinated chicken breast, garden vegetable medley, swordfish steaks and more. Fresh marinades and spices will fill the air with the aromas of your delicious grill choices
Sliders– the best of the hand held sandwiches with an endless list of fillings. Choose from fresh Black Angus, crab meat salad, lobster salad, smoked turkey, and much more. Customize these sandwiches to fit your crowd.
Let us sit down with you to add your favorite stations to a wonderful dessert station, coffee station and make your event unforgettable.